Updates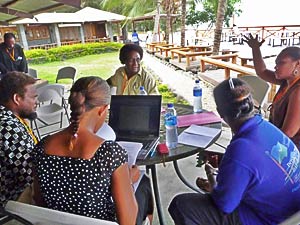 Iron Bottom Sound, Solomon Islands
May 2016:
Drawing on the experience from Baltic Media Centre Fund with media development assistance in the Western Balkan countries and Turkey, Media Progress provides technical assistance to EC DG NEAR concerning a regional Technical Assistance programme in favour of Public Service Media in the Western Balkans and Turkey. As part of the overall assessment of these pre-accession countries with regards to their respect and commitment to promoting freedom of expression, this assistance focuses specifically on the reform and professional development of Public Service Media in the Western Balkans and Turkey in order to ensure content pluralism in an independent and accountable manner.
February 2016:
Media Progress has proudly incorporated Tunisian-based African Communication. We welcome African Communication partners and co-owners:
- Eran Fraenkel
- Francis Rolt
- Cees van Zweeden
Spring 2015:
Drawing on the experience from Baltic Media Centre Fund with media development interventions in the states surrounding the Baltic Sea, Media Progress has developed a number of concept notes and synthesis background papers concerning Russian Language Media Initiatives for the European Endowment for Democracy and the Danish Cultural Institute respectively. The documents describe and recommend models for basket funding, commercial investment funding, and media platforms for media development interventions in Estonia, Latvia, Lithuania, Ukraine, the Eastern European Partnership region and beyond.
March 2015:
Media Progress has won the tender "Production of the State of Media Freedom in Rwanda Report" (UNDP Rwanda). The evidence-based assessment of media freedom in Rwanda based on UNESCO's Media Development Indicators includes mapping of the legal, policy and regulatory contexts with special focus on the 2013 media reforms. The report also assesses challenges to the level of professionalism and current initiatives towards improving media professionalism, promoting professional and ethical media practices as well as defending media freedom in Rwanda. The report will provide a standard reference and the key recommendations on media freedom in Rwanda. Four Media Progress partners were involved: Francis Sowa (the team's expert on media law and Media Development Indicators), Glenn O'Neil (quality assurance expert) Bent Nørby Bonde (team leader) and Ingeline Bonde (project management).
March 2014:
Media Progress and its subsidiary African Communication have established a branch office in Brussels, Belgium. This serves to facilitate networking and consortium building as well as collaboration with European donors.
September 2013:
Media Progress subsidiary, African Communication, partners with Equal Access in the development, operation and management of a 24/7 Hausa-language satellite TV channel aimed at youth residing in northern Nigeria. The satellite TV channel aims to create positive themes and narratives competing with those of political violence and violent extremism. It will also enhance local media capacity and professionalism by sub-awarding to local partners. Content delivered initially by satellite television will be echoed through additional media platforms.
June 2013:
Media Progress has won the tender "Mid-Term Evaluation of African Peace building Coordination Programme Phase II" (MFA Finland). The evaluation will evaluate the Relevance, Efficiency, Effectiveness, Impact, Sustainability and cross-cutting gender and human rights aspects of the project. The project aims to enhance local ownership and capacity for peacebuilding processes, support national, regional and international policy frameworks and create a platform for dialogue and identification of best practices and knowledge.
April 2013:
Media Progress welcomes its new co-owners and partners:
- Glenn O'Neill
- Samra Lučkin
- Waseem Mahmood
- Ingeline Bonde
- Francis Sowa
- Senad Kamenica
- Niels Jørgen Thøgersen