Communication Strategies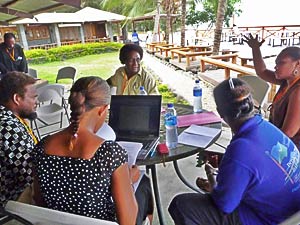 Iron Bottom Sound, Solomon Islands
Communication strategies aim to improve information exchange and collaboration among various groups of actors to achieve the client's goals.
Communication strategies can ensure the involvement of population groups in development processes and provide the information necessary for informed decision making. When they are combined with outreach campaigns that focus on sensitive issues and target political and civil society leaders they become a very powerful tool.
A carefully elaborated communication strategy provides a sound basis for stakeholder driven processes which minimises misunderstandings and social tension when initiating major development projects.
Communication and visibility strategies serve to liaise with the public and provide information when public services are undergoing change and public, professional or private institutions are transformed.
Communication provides stakeholders and civil society with information and opens for a dialogue which may contribute to a change of attitudes and ultimately a change of behavior.
Media Progress develops communication strategies based on participatory consultations and processes to ensure public ownership. We design communication, outreach, and visibility strategies for projects, EU Delegations, national development agencies, the UNDP and the EU external actions.